Get the job done. Anywhere.
Go places no other vehicle can go,
for whatever the task requires.
Let's face it, sometimes Mother Nature doesn't always play fair. When one of the toughest parts of your job is the environment you're working in, hovercraft can be your greatest asset. Take on rough water, broken ice, swamp, or debris without sacrificing power, payload or performance. It's time to show Ms. Nature who's boss.
Take the work out of your job.
Like an ace up your sleeve, hovercraft will come through for you when it matters most. You will tackle terrain you'd never thought possible with ease and incredible maneuverability so you can do your job better, faster and with the best results possible.
Worrying about your environment is a thing of the past. With hovercraft, you can keep your eye on the prize and get even the toughest jobs done right, every time.
Capable. Durable. Reliable. Put hovercraft to work for you.
See how hovercraft mean business –
take a Test Flight.
"Being a retired helicopter pilot, it is
not easy for me to find pleasure
working. After commercial hovercraft training at the HTC not only my business is doing great, but I'm having all the fun in the world"
George Saponari
Spring Hill, Florida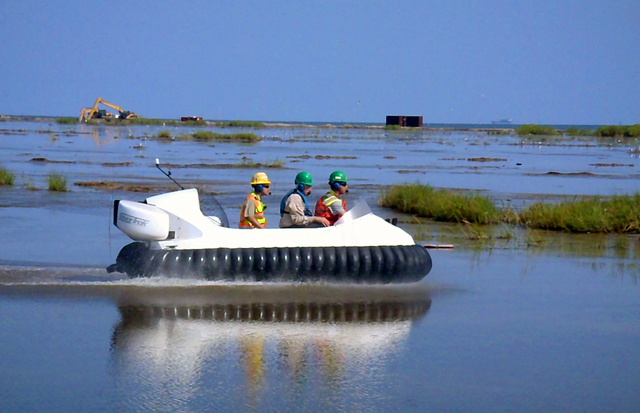 Great Lakes Dredge & Dock Co.
A pilot navigates their hovercraft through Pelican Island infill with a work crew on board.
See the GLDD pilot training photo gallery ...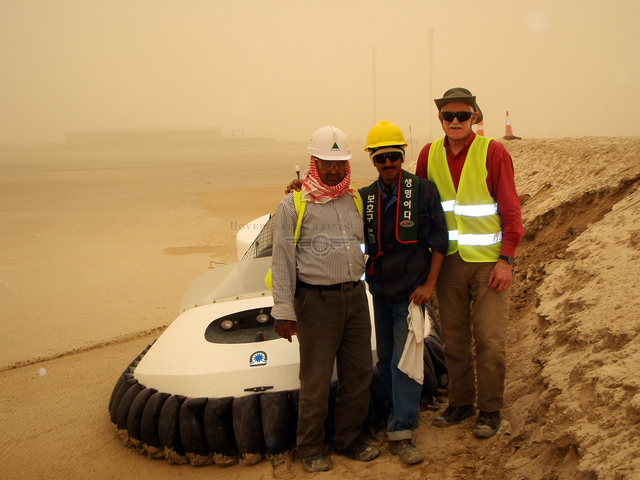 Hovering with Hyundai in the Middle East
HTC's senior flight instructor Chris Fitzgerald travels to Kuwait to train Hyundai engineers working on the Mubarak Al-Kabeer Port project on Bubyan Island. Neoteric hovercraft are being used by South Korea's Hyundai Engineering & Construction Co. Ltd. on Bubyan Island in the building of the Mubarak Al-Kabeer Port. Hovercraft are the only vehicles able to operate on the island's knee-deep mud, silt and sand.
See the flight training photo gallery ...